OnePlus 7 Pro the most awaited smartphone of this year has been launched in the market with outstanding features and ass-kicking design. OnePlus 7 Pro is one of the biggest competitors of biggest flagships smartphones like iPhone XR and Samsung S10.
OnePlus 7 Pro is amazing but from some aspects, OnePlus 7 Pro does not worth its price, we'll look it ahead in the upcoming sections of the article. I will keep it honest and engaging.
OnePlus 7 Pro has many exceptional uses of technologies and gives a smart performance. The biggest highlight of the phone is its Camera which has some improvements as compared to OnePlus 6t.
There are a bunch of improvements but required some improvements too. The biggest problem of the phone is its price which is around half a lakh rupees.
So, without wasting time. Let's jump to the sections of the specification and after it, we'll also watch pros and cons sections. You can watch all the sections in the table of contents. And, can jump right there by just a click.
Specifications of OnePlus 7 Pro
Share this Image On Your Site
Display
| | |
| --- | --- |
| Screen size | 6.67 inches |
| Touchscreen | Yes |
| Resolution | 1440*3120 pixels |
| Protection | Gorilla Glass |
| Aspect Ratio | 19.5:9 |
| Extra | In display fingerprint sensor |
| Bezel-less | Yes |
| Curved Display | Yes |
Hardware
| | |
| --- | --- |
| Chipset | Qualcomm Snapdragon 855 |
| RAM | 6, 8 and 12 GB |
| ROM | 128 and 256 GB |
| Expanable memory | No |
Camera
| | |
| --- | --- |
| Rear | 48MP(F/1.6) + 8MP(F/2.4) + 16MP(F/2.2) |
| Rear Flash | Dual LED |
| 3X Optical Zoom | Yes |
| Ultra Wide Camera | Yes |
| Front | 16MP |
Software
| | |
| --- | --- |
| Operating System | Android 9.0 Pie |
| Skin | Oxygen OS 9.5 |
Extras
| | |
| --- | --- |
| FaceUnlock | Yes |
| Finger Print Sensor | Yes |
| Compass | Yes |
| Proximity Sensor | Yes |
| Accelerometer | Yes |
| Ambient Light Sensor | Yes |
| Gyroscope | Yes |
| 3.5 mm Jack | No |
| Battery | 4000 mAh(non-removable) |
| Wireless Charging | No |
---
Pros and Cons of OnePlus 7 Pro
Pros
1) Awesome Display
2) Powerful Battery Backup
3) Outstanding Performance
4) Competitive Pricing
5) Superb Skin and Software
6) Stunning Design
7) Responsive Pop-Camera
8) Remarkable Cooling technology
Cons
1) No wireless charging
2) No Headphone Jack
3) Non-expandable storage
4) Little bit heavy
5) Not natural camera effects
6) Same design as OnePlus 6t
Launch Date and Price of OnePlus 7 Pro
I know that you are excited to know the price and launch date of OnePlus 7 Pro in India.
According to the official statement of OnePlus, they will launch OnePlus 7 Pro in India by 16th of May 2019. OnePlus 7 Pro will be available on the Amazon and much more sites.
The price of OnePlus 7 Pro is given below:-
| | |
| --- | --- |
| Variant | Price |
| 6GB RAM and 128GB ROM | Rs. 48,999 |
| 8GB RAM and 256GB ROM | Rs. 52,999 |
| 12GB RAM | Rs. 57,999 |
And, you can buy the OnePlus 7 Pro by clicking the button below:-
Review of OnePlus 7 Pro
In this section, I will review OnePlus 7 Pro in depth as I know about it. I also asked many big techies to give their opinion and after that, I have concluded the review.
We have studied OnePlus 7 Pro in detail whether its Pros and Cons. I have mentioned some pros and cons in the third section of this article. Those are critical pros and cons but there are some minor pros and cons which I will mention in this section.
It totally depends upon you either buy or not but you should not ignore the missing things in it and the suggestions of the experts. But, it is your right to think. Surely, you must read the last section of the article.
Display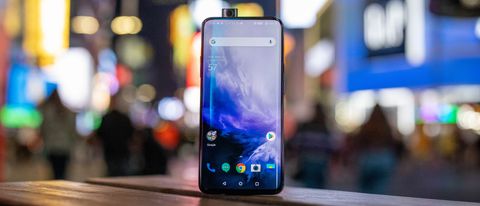 The display of OnePlus 7 Pro is the main highlight of this smartphone where you get a notch-less display and the front camera pop-ups to capture the moments. The pop-up front camera is quick and advanced, if you accidentally drop your phone then the Pop-up camera will close suddenly in mid-air. This will prevent the damage to your pop-up camera.
This display is a full bezel-less display along with curved display which looks awesome. Curved display phones are only available on Samsung phones before it. The display is protected by Gorilla Glass which will give your phone the power of Gorilla guards. This glass can easily handle many drops easily.
The display size is 6.67 inches which are quite impressing and you can use your apps on the big display and this display support up to 2K videos. I thought they should give it 4K videos support because they are charging so.
You will get a In-display finger-print sensor at the bottom the smartphone's display from where you can use your fingers to open phone and apps. It is little bit slow as compared to other fingerprint sensor position but it is ignorable.
In short, the display is fantastic and better than other flagship smartphone in its price range.
Design
OnePlus 7 Pro has an outstanding design where the engineers have managed all components correctly and look stunning.
On the top of the phone you will get only the display because there is no notch available in the phone instead of notch you get a Pop-Up selfie camera. And the display looks very nice because of high PPI in the display. Display is curved so it adds extra butter to the phone.
The front side of the phone is totally different from the previous version of the phone that is OnePlus 6T. At the front side, ou get many new improvements.
You get premium looking curved edges in the phone and the back panel is usual as OnePlus 6T but here you will get 3 cameras which make difficult to compare the OnePlus 6t back panel and OnePlus 7 Pro back panel.
Performance
In OnePlus 7 Pro, you get the support of Qualcomm Snapdragon 855 processor chipset which is only available in OnePlus 7 Pro in Indian Smartphone market. So, you can think about how powerful is the processor. It works on the 7NM technology means the phone will support quick response with remarkable cooling technology. The processor chipset is amazing and the best processor so far in this price range.
Not only processor is get but the Operating System is also quite impressing, here you get Android Pie 9.0 which is the most stable software in the market so far. You can run easily multiple apps at once.
You will get 3 RAM variants on the phone which are 6GB, 8GB and 12GB mean the RAM is also very high and will give support to access more quickly your phone. The biggest problem is that you can't expand your memory.
You will get Oxygen OS skin in OnePlus 7 Pro. Oxygen OS is the best OS skin in the market so far, this is the most stable skin as well. You can ask any OnePlus user about the performance of the phone, most people will give you positive feedback because Oxygen OS gives the best support.
OnePlus 7 Pro can also compete with Samsung S10 Plus on the basis of performance. I think its performance is the best and there is no doubt that you may buy OnePlus 7 Pro if you want the best performance.
Battery and Security
OnePlus 7 Pro comes with 4000 mAh non-removable battery which has the battery backup of 9 and half hours, this is quite amazing and remarkable. The battery supports quick charging and there are no benchmark reports about its charging so far but when I tested it chraged in 21 minutes from 10 to 95 percent which is good.
You will get Finger-Print sensor and Face-unlock in OnePlus 7 Pro. The finger-print sensor is located at the bottom of the display and a little bit slow but responsive. You will get Face-unlock on the phone and when you will face the camera it will rise up and will do its process.
Camera
The phone comes with a triple rear camera which has MP counts of 48MP(F/1.6) + 8MP(F/2.4) + 16MP(F/2.2). As you can see that the aperture varies a lot, so you can also capture stunning pictures in the night. You will get 3X Optical Zoom and Ultra-wide angle support in the phone.
The front camera is of 16MP which is amazing and capture nice selfies everytime.
The camera is not so good as people thought and in this point, OnePlus disappointed its phone because the camera doesn't capture natural images as per their price.
In short, OnePlus 7 Pro is not the best option for the camera at this price range. I will recommend you to Huawei P20 or Samsung S10 or the better camera support.
My last words on OnePlus 7 Pro
This phone offers some outstanding features but in some points its disappointe its customers.
You should buy OnePlus 7 Pro if you wanted:-
The best performance in this price range
The best battery backup
Beautiful Smartphone
Powerful gaming support
Best processor
Balanced software
High RAM
You shouldn't buy OnePlus 7 Pro if you wanted:-
Best camera phone
Light phone
Phone with a headphone jack
The phone supports wireless charging
Best selfie camera phone